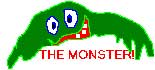 Writing a survey paper is a highly underestimated task. I once
tried it out with \'Centers of generic division algebras : the
rationality problem 1965-1990\' and it took me a lot of time and that
was on a topic with only 10 to 15 key papers to consider… The task of
writing a survey paper on a topic with any breadth must be much more
difficult. Last week, Terry Gannon posted a survey paper on the arXiv :
Monstrous Moonshine : The first twenty-five years
which gives a very readable introduction to this exciting topic. It has
a marvelous opening line :
It has been approximately
twenty-five years since John McKay remarked that

196 884 = 196 883 +
 1
Anyone who is puzzled by this line ("So what?")
should definitely have a go at this paper! Still not convinced? Here is
the second sentence :
That time has seen the discovery of
important structures, the establishment of another deep connection
between number theory and algebra, and a reinforcement of a new era of
cooperation between pure mathematics and mathematical
physics.
For the remaining sentences (quite a few, the paper
is 33 pages long) I happily refer you to the paper.
Similar Posts: