Suppose you're writing a book, and for the duration of that project you keep a certain photo as your desktop-background. I guess we might assume that picture to be inspirational for your writing process.
If you PhotoShopped it to add specific elements, might we assume these extra bits to play a crucial role in your story?
Now, let's turn to Twenty One Pilots and the creation process of their album Trench, released on October 5, 2018
We know from this tweet (from August 19th, 2018) that Tyler Joseph's desktop-background picture was a photoshopped version of the classic Bourbaki-1938 photo on the left below, given it Trench-yellow, and added a bearded man in the doorway (photo on the right)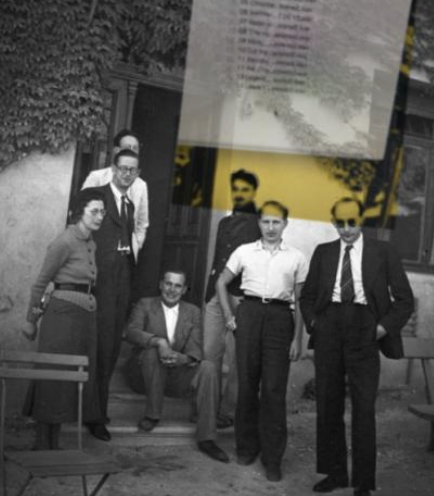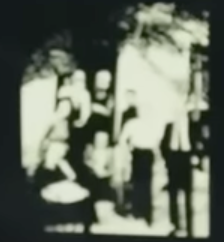 And we know from this interview (from September 5th, 2018) that, apart from the bearded man, he also replaced in the lower left corner the empty chair by a sitting person (lower photo).
The original photo features on the Wikipedia page on Nicolas Bourbaki, and as Tyler Joseph has revealed that Blurryface's real name is Nicolas Bourbaki (for whatever reason), and that he appears in the lyrics of Morph on Trench, this may make some sense.
But, of the seven people in the picture only three were founding members of Bourbaki: Weil, Diedonne and Delsarte. Ehresmann entered later, replacing Jean Leray, and Pison and Chabauty were only guinea pigs at that moment (they later entered Bourbaki, Chabauty briefly and Pison until 1950), and finally, Simonne Weil never was a member.
There's another strange thing about the original picture. All of them, but Andre and Simone Weil, look straight into the camera, the Weil's seem to be more focussed on something happening to the right.
Now, TØP has something with the number 9. There are nine circles on the cover of Blurryface (each representing one of a person's insecurities, it seems), there are nine towers in the City of Dema, nine Bishops, etc.
So, from their perspective it makes sense to Photoshop two extra people in, and looking at the original there are two obvious places to place them: in the empty doorway, and on the empty chair.
But, who are they, and what is their significance?
1. The bearded man in the doorway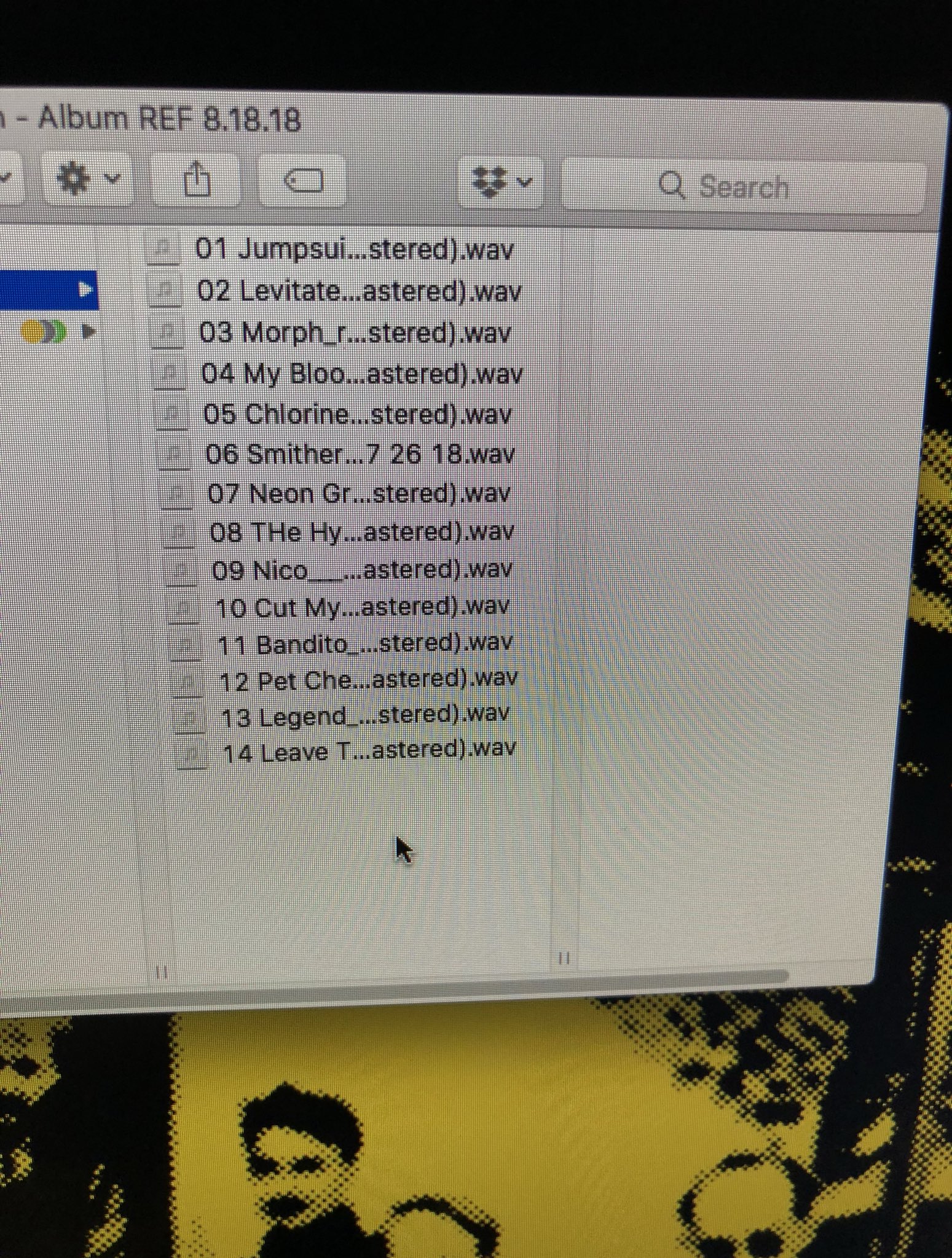 As far as I know, nobody knows who he is. From a Bourbaki point of view it can only be one person: Elie Cartan.
We know he was present at the 1938 Bourbaki Dieulefit/Beauvallon meeting, and that he was kind of a father figure to Bourbaki. Among older French mathematicians he was one of few (perhaps the only one) respected by all of Bourbaki.
But, bearded man is definitely not Elie Cartan…
If bearded man exists and has a Wikipedia page, the photo should be on that page. So, if you find him, please leave a comment.
Previous in this series I made a conjecture about him, but I'm not at all sure.
2. Why, of all people, Szolem Mandelbrojt?
We know from this Twentyonepilots subReddit post that the man sitting on the previously empty chair in none other than Bourbaki founding member Szolem Mandelbrojt, shopped in from this other iconic early Bourbaki-photo from the 1937 Chancay-meeting.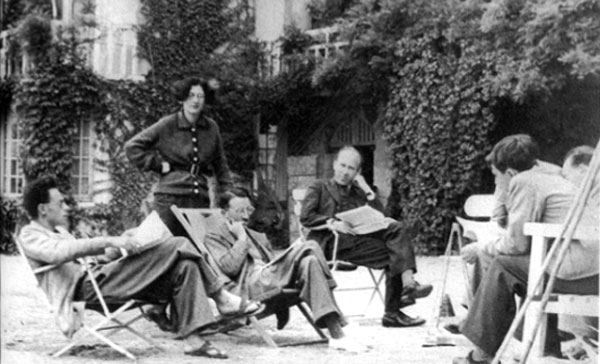 Let me tell you why this surprises me.
Szolem Mandelbrojt was atypical among the first Bourbaki-gang in many ways: he was the only one who didn't graduate from the ENS, he was a bit older than the rest, he was the only one who was a full Professor (at Clermont-Ferrand) whereas the others were 'maitre de conference', he was the only one who didn't contribute actively in the Julia seminar (the proto-Bourbaki seminar) nor much to the Bourbaki-congresses either for that matter, etc. etc.
Most of all, I don't think he would feel particularly welcome at the 1938 congress. Here's why.

(Jacques Hadamard (left), and Henri Lebesgue (right))

From Andre Weil's autobiography (page 120):
Hadamard's retirement left his position open. I thought myself not unworthy of succeeding him; my friends, especially Cartan and Delsarte, encouraged me to a candidate. It seemed to me that Lebesgue, who was the only mathematician left at the College de France, did not find my candidacy out of place. He even let me know that it was time to begin my 'campaign visits'.
But the Bourbaki-campaign against a hierarchy of scientific prizes instituted by Jean Perrin (the so called 'war of the medals') interfered with his personal campaign. (Perhaps more important was that Mandelbrojt did his Ph.D. under Hadamard…)
Again from Weil's autobiography (page 121):
Finally Lebesque put an end to my visits by telling me that he had decided on Mandelbrojt. It seemed to me that my friends were more disappointed than I at this outcome.
In the spring of 1938, Mandelbrojt succeeded Hadamard at the College de France.
There's photographic evidence that Mandelbrojt was present at the 1935 Besse-congress and clearly at the 1937-Chancay meeting, but I don't know that he was even present at Chancay-1936.
The only picture I know of that meeting is the one below. Standing on bench: Chevalley's nephews, seated Andre Weil and Chevalley's mother; standing, left to right: Ninette Ehresmann, Rene de Possel, Claude Chavalley, Jacqueline Chavalley, Mirles, Jean Delsarte and Charles Ehresmann.
Of all possible people, Szolem Mandelbrojt would be the miscast at the 1938-meeting. So, why did they shop him in?
– convenience: they had an empty chair in the original picture, another Bourbaki-photo with a guy sitting on such a chair, so why not shop him in?
– mistaken identity: in the subReddit post the sitting guy was mistakenly identified as Claude Chevalley. Now, there is a lot to say about wishing to add Chevalley to the original. He is by far the most likeable of all Bourbakis, so if these nine were ever supposed to be the nine Bishops of Dema, he most certainly would be Keons. But, Chevalley was already in the US at that time, and was advised by the French consul to remain there in view of the situation in Europe. As a result, Chevalley could not obtain a French professorship before the early 50ties.
– a deep hidden clue: remember all that nonsense about Josh Dun's 'alma mater' being that Ukrainian building where Nico and the niners was shot? Well, Szolem Mandelbrojt's alma mater was the University of Kharkiv in Ukraine. See this post for more details.
3. Is it all about Simone Weil?
If you super-impose the two photographs, pinning Mandelbrojt in both, the left border of the original 1938-picture is an almost perfect mirror for both appearances of Simone Weil. Can she be more important in all of this than we think?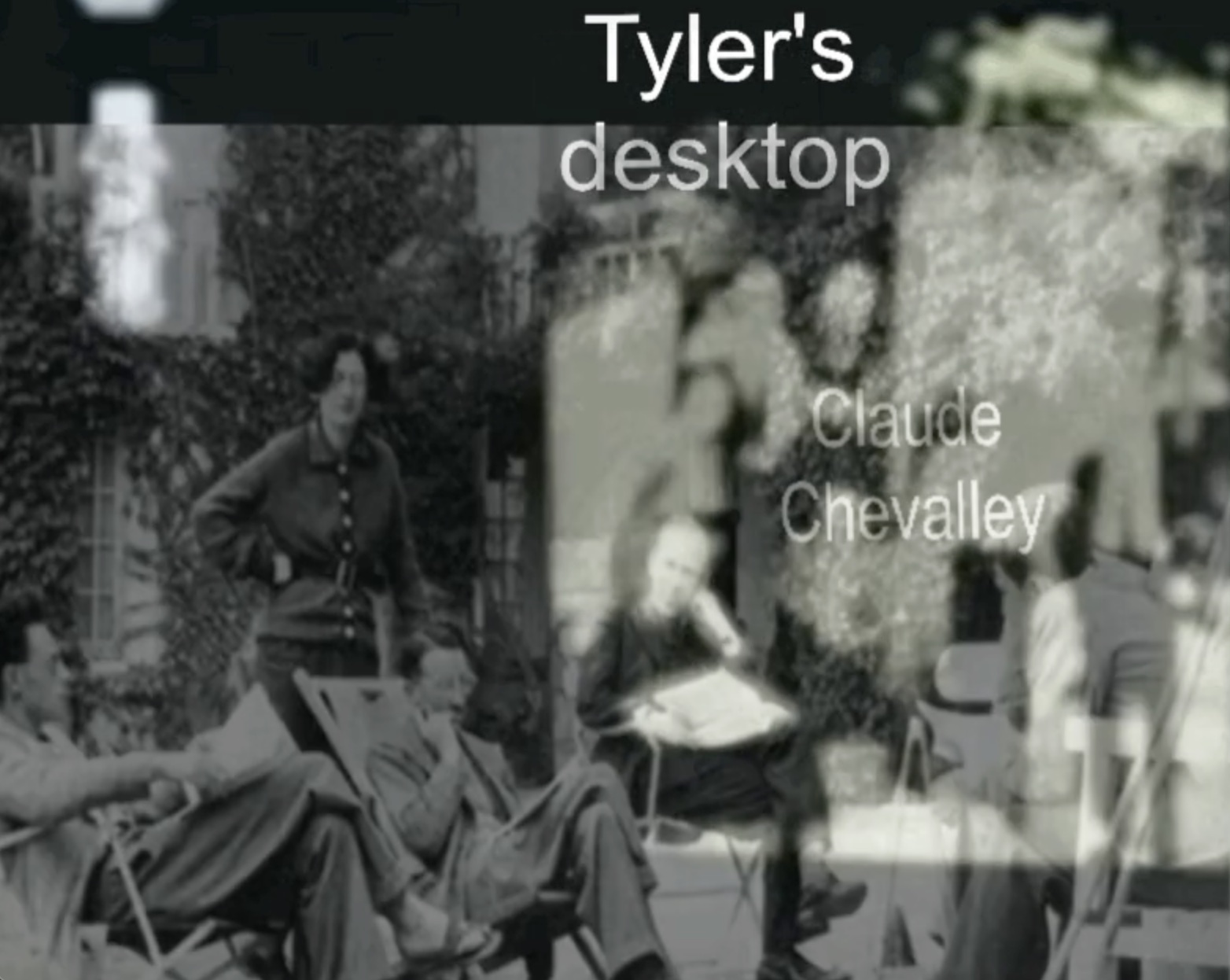 Previous in the Bourbaki&TØP series:
Leave a Comment