A jailbroken iTouch can do many wonderful tricks : by sarting up an AFDd server one can use it in Disk mode, exactly as an iPodClassic, one can use it as a WebServer by installing Apache and PHP and run a Wiki, one can install OpenSSH and secure shell to the rest of the world, one can even turn the iTouch into a music streamer via the FireFly server, one can …
And all of this on a gadget with only 116Mb RAM and one processor running at 412MHz… is asking for overload problems both on memory and battery. A couple of days ago I wanted to start up the iTouch and was greeted by a bright flickering screen and thought I'd finally bricked it…
Fortunately, there's a simple lesson to be learned : with every new feature you install, learn how to switch if off and monitor your iTouch using the SysInfo.app (under Utilities) which allows to view basic system info (screenshot below) as well as all active processes.
Here a few tricks to turn on/off the major consumers :
To turn off the Apache-sever, ssh into the iTouch and give a apachectl stop command (you can always restart it with apachectl start.

To control OpenSSH, install the Services.app (under Utilities) which allows to toggle Wifi, Edge, SSH and Bluetooth on or off (screenshot below).

To control APFd, use its control pannel to toggle the Broadcast active feature only when you need your iTouch in Disk mode (it will then appear under Shared in your Finder window, at least under Leopard. For more on this see Mount and use your iPod touch as a Thumb Drive.

To control FireFly, use the UIctl.app (under Multimedia) and scroll down (after staring for about 15 seconds to a white screen) to org.fireflymediaserver.mt-daapd, tap it and start or stop the server.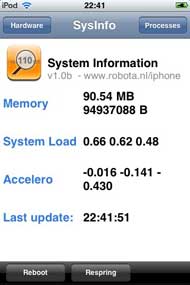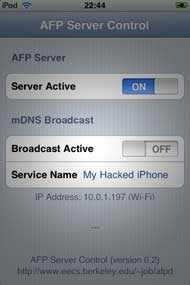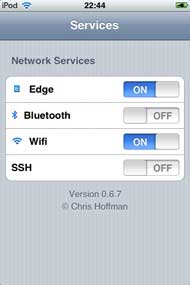 Another major consumer is the MobileRSS.app (under Productivity). Maybe I should restrict my subscriptions to the hottest blogs only…
Similar Posts: