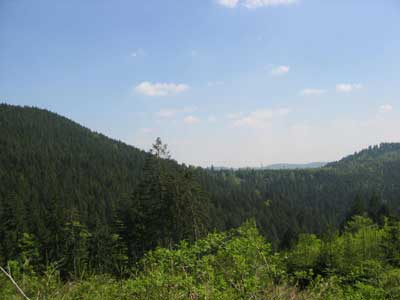 If you go
to Oberwolfach and the weather
predictions are as good as last
weeks, try to bring your mountain-bike along! Here is a nice
1hr30 to 2hrs tour : from the institute to Walke (height 300m), follow
the road north to Rankach and at the Romanes Hof turn left to Hackerhof.
Next, off-road along the Hacker lochweg until you hit the road
Haaghutte-Mooshutte at an height of 855m (this should be doable in under
one hour). A few metres further, you have a view at the highest
mountains in the vicinity of the Institute : the Grosser Hundskopf
(947m) and Kleiner Hundskopf (926m) as on the left. Then, descend along
the Kirchhofweg over Moosbauerhof all the way down to the
Dohlenbacherhof where you hit the main road which brings you back to the
institute going SW. Please take a pump and repair material along, I
had 2 flat tires in 4 days. If you happen to have a GPS, you can
download the gpx-file.
You can feed this to Tom Carden's Google Map
GPX Viewer and study it in more detail (I made one wrong turn in the
descent and also briefly lost GPS reception in the forest near the top
causing the top waypoint (the lower waypoint is the Institute)).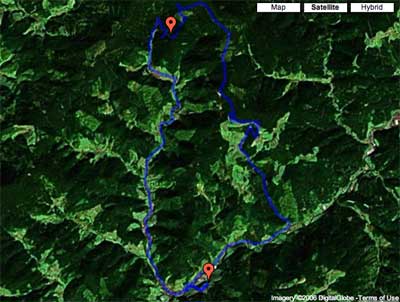 If you
were not present and still want to see some of the talks or if you are
just curious in the outcome of Paul's
frantic typing on his PowerBook, he has put his (selection of
talks)-notes
online. Perhaps I'll write down some of my own recollections of this
meeting later.