Some French real estate agents don't try to sell you property, but a dream. There's nothing wrong with pursuing dreams as long as you're doing the necessary maths. If not, your dream may soon become an horrible nightmare…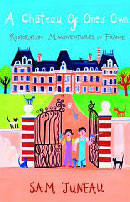 Just finished reading A Chateau Of One's Own (subtitle : "Restoration misadventures in France") by Sam Juneau. From the back-cover :
"Sam and Bud were ordinary first-time homebuyers in their early thirties. Their intention in moving to France was to create a simple life and spend more time with their children. The home they actually bought was an impressive seventeenth-century chateau in the Loire valley with over thirty rooms, 156 windows and 40 acres of land. With only modest savings, the couple launched the challenging project of restoring this crumbling monster of a building to its former glory and opening a bed and breakfast in the process."
A couple of hours before flying back to the States, the two fall madly in love with a chateau that had served as home to more than 30 adults with Down's syndrome until four years ago, when it closed its doors and has been empty ever since. Some basic structures such as plumbing and electricity may still be functioning somewhat, but it is going to be a huge project. And why hasn't anyone else bought the beast in the four years it's on the market? A simple comparison is required between asking price + restoration costs estimate and the available resources of the couple. We get this information on page 42 :
"The asking price was well beyond our meagre resources. Philippe told us the chateau could be had for about 20 per cent less than the asking price or about 2.9 million francs. This came to about 300,000 pounds at the time, plus fees and government taxes. Persistent, I pointed out again that this was the price of a modest closet in Manhattan or London. Of course, the difference was you could make a living in these cities. The B&B might never bring in sufficient income to cover the loan. A specious venture at best, disastrous at worst. We had managed to pull together about $170,000 in our time in New York. Our life's savings. At 33 years of age, not terribly bad, but far from sufficient."
So, here we are, about 1/8th into the book and certain that they do not have a fighting chance whatsoever. The essential sub-sentence being 'you could make a living in these cities'. To pursue their project, they will have to give up their jobs and income and hope that the B&B-money will be coming in soon and plentiful to pay-off their loans. Now, if you want to charge people a sizable amount of money for staying in a chateau, you'd better restore it up to B&B-standards, or better.
Any DIY-book on restoring old French houses will give you estimates for this. To renovate a semi-derelict property to a quality standard suitable for short time letting or as a bed and breakfast business : between 1,100 and 2,000 Euros per square metre. So, for a luxury chateau-B&B they'll have to go for at least 1,500 Euros/m2. One final ingredient in still missing but we learned this already on page 34 : the chateau measures 15,000 square foot (that's about 1,400m2).
Hence, they need about 2,100,000 Euros for the restoration and 328,707 Euros to buy the place, having only 116,822 Euros to spend… No way! But then, the back-cover seems to suggest that they did succeed after all : "Sam Juneau was born in New Orleans and is a television producer and writer in the UK and the US. He and his wife live in France with their children and 22 cats."
So, I continued reading, eager to discover the flaw in my calculations. About 3/4th into the book, I started to believe in a miracle when they could take over the business of a neighboring chateau, specializing in wedding-arrangements. But then, in the closing chapter, the inevitable happened, they had to sell the chateau and planned to redo a similar (but smaller) stunt with a "beautiful chartreuse, an eighteenth-century manor house" in the Dordogne. The latest internet-sighting of Sam Juneau is a twitter message dated June 29th "riding in a cab on 5th ave, no a/c, one of life's gentle pleasures". I guess he failed to do his maths, even the second time around…
Similar Posts: