With Grothendieck's 85th brithday coming up, march 28th, we continue our rather erratic quest to locate the spots that once meant a lot to him.
Ever wondered what Grothendieck's last-known hideout looked like? Well, here's the answer:
(h/t gruppe eM)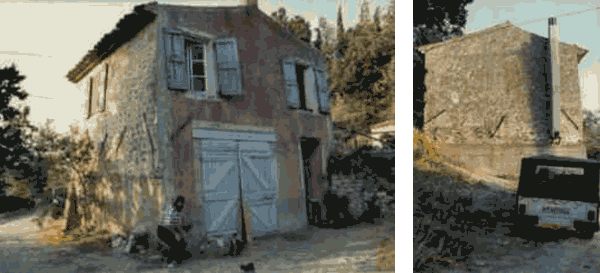 And, here's the story.
One of the stranger stories to be found on the web is the Grothendieck quest by Roy Lisker. In 1988, after AG declined the Crafoord Prize, Roy convinced an editor of Le Nouvel Observateur to hire him to uncover the whereabouts of Alexandre Grothendieck and, if possible, to interview him.
The 'quest' is an hilarious account of Roy's attempts to prise AG's address out of the people from the Montpellier maths department, his subsequent travels and stay at Grothendieck's place.
He put the text online in 2008 and made it intentionally opaque wrt. AG's phone number and address:
"His phone, if in fact this notorious hermit bothered with such contrivances, was unlisted."
"…of his adopted village of Lessmoiron (after a 20 year silence it is permissible to reveal its name) , in the department of the Vacluse, a region of France long habituated to the herbergement of exiled or alienated Popes."
By that time the Grothendieck-Serre correspondence had been published for over 4 years, including a letter dated 2 september 1984, giving away this 'secret information':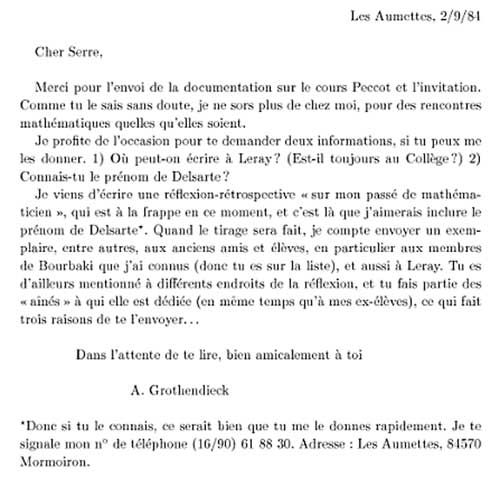 So, not only do we have a phone number (today it would be 0033(0)4 90 61 88 30), but also that AG lived in the hamlet "Les Aumettes" in the village of Mormoiron (and not 'Less'moiron, duh), close to the famous (to any bicyclist) Mont Ventoux.
From Roy's quest we learn that it is about 3 kms from the center of Mormoiron and that
"Grothendieck's cottage was built up against a hillside, it's conical shape hugging the hill like the helmet of a medieval knight. The lower entrance was graced by a pair of sturdy French windows. Above these, at the level of the attic, two tiny rectangular windows filtered light into the bedroom."
If you want to explore the immediate neighborhood of Les Aumettes, click on the picture below (bonus points for anyone who is able to pinpoint the exact location on the map).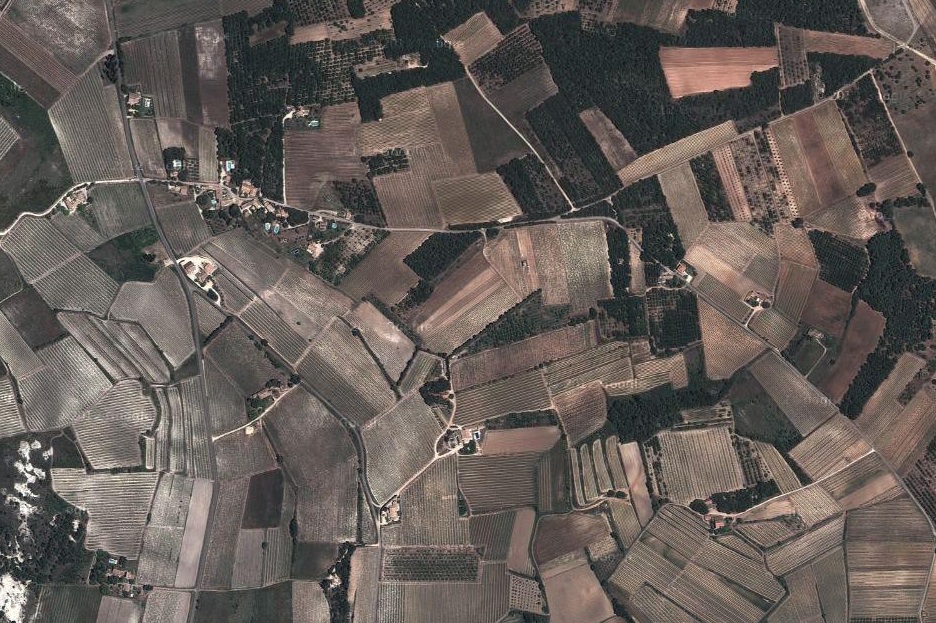 If someone at the Mairie de Mormoiron reads this, please consider adding to your list of 'Personnalités liées à la commune'
– Raymond Guilhem de Budos (? – 1363), neveu de Clément V, seigneur de Clermont, Lodève, Budos,Beaumes-de-Venise, Bédoin, Caromb, Entraigues, Loriol et Mormoiron, gouverneur de Bénévent, Maréchal de la Cour pontificale et Recteur du Comtat Venaissin de 1310 à 1317.
– Guillaume-Emmanuel-Joseph, baron Guilhem de Sainte-Croix, (1746-1809), membre de l'Institut, auteur d'un essai Examen critique des anciens historiens d'Alexandrie, couronné par l'Académie des Inscriptions et Belles-Lettres en 177224.
– Paul Vialis, ancien maire de Moirmoiron ou il est né en 1848, et député de Vaucluse.
– Albert Schou (da), (27 mars 1849 – 4 février 1900), photographe danois
this one:
– Alexandre Grothendieck (né en 1928), mathématicien français ayant reçu la Médaille Fields.
Merci!
Previous in this series:
– Vendargues
Similar Posts: