In a couple of days, on march 28th, Alexandre Grothendieck will turn 85.
To mark the occasion we'll run a little series, tracking down places where he used to live, hoping to entice some of these villages in the south of France to update their Wikipedia-page by adding under 'Personnalités liées à la commune' the line
– Alexandre Grothendieck (né en 1928), mathématicien français ayant reçu la Médaille Fields.
as did the village of Le Chambon-sur-Lignon, where Grothendieck was kept safe from 1942-1945, separated from his mother who was send to an internment camp (his father was deported by the French authorities in august 1942 and killed by the Nazis in Auschwitz).
After the war, Alexandre was reunited with his mother and, according to Allyn Jackson's As If Summoned from the Void: The Life of Alexandre Grothendieck, they "went to live in Maisargues, a village in the wine-growing region outside of Montpellier".
Amir Aczel adds to this in his book The artist and the mathematician, the story of Nicolas Bourbaki: "From 1945 until 1948, mother and son lived in the small hamlet of Mairargues, virtually hidden among the vineyards, a dozen kilometers from Montpellier. They had a marvelous small garden: they never had to work at gardening and yet the earth was so fertile, and the rains so abundant, that the garden produced a plentiful harvest of figs, spinach, and tomatoes. Their garden was at the verge of splendid poppies. Grothendieck remembers his time there with his mother as "la belle vie"."
But, there is no Maisargues nor Mairargues to be found in France.
There is the village of Caissargues, close to Nimes, about 50 kms from Montpellier, and, there is the village of Meyrargues, close to Pertuis, more than 170 kms from Montpellier.
So, where is the hamlet of "la belle vie"?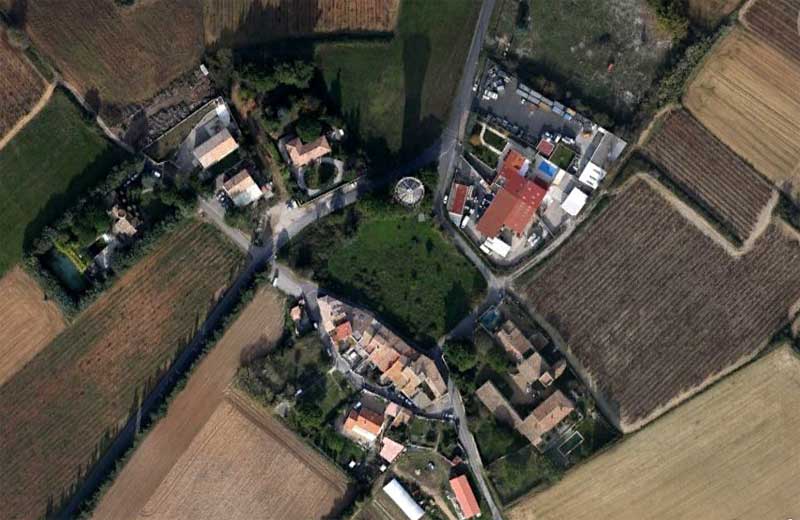 Jackson's and Aczel's info is based on a footnote in Grothendieck's Recoltes et semailles (in fact, Aczel's text is a mere translation of it):
"Entre 1945 et 1948, je vivais avec ma mère dans un petit hameau à une dizaine de kilomètres de Montpellier, Mairargues (par Vendargues), perdu au milieu des vignes. (Mon père avait disparu à Auschwitz, en 1942.) On vivait chichement sur ma maigre bourse d'étudiant. Pour arriver à joindre les deux bouts, je faisais les vendanges chaque année, et après les vendanges, du vin de grapillage, que j'arrivais à écouler tant bien que mal (en contravention, paraît-il, de la législation en vigueur. . . ) De plus il y avait un jardin qui, sans avoir à le travailler jamais, nous fournissait en abondance figues, épinards et même (vers la fin) des tomates, plantées par un voisin complaisant au beau milieu d'une mer de splendides pavots. C'était la belle vie."
Although Grothendieck misspells Mayrargues, he points to the village of Vendargues which is situated 12 kms east of Montpellier and has a hamlet called Mayrargues (foto above). Via Google Maps you can visit "l'hameau de la belle vie" by yourself (it even has streetview).
If someone at the Mairie de Vendargues comes across this post, please consider adding to your list of famous (former) inhabitants:
– Marcelin Albert (1851-1921), séjourne au mazet de Montmaris, leader de la révolte viticole, est le parrain de Marcellin Guille né en 1907 et oncle d'Archiguille.
– Sabri Allouani (1978-), raseteur (Septuple Vainqueur du Championnat de France de la Course Camarguaise au As 2000-2007)
– Archiguille (Augustin François Guille, peintre contemporain "Transfigurations") vivant en Suisse.
– Laurent Ballesta (1974-), Biologiste marin, plongeur, photographe, collaborateur de Nicolas Hulot)
– Le général Pierre Berthezène (1775-1847), baron d'Empire, pair de France (1775-1847)
– Jerôme Bonnisel (joueur de football professionnel)
– le baron Pierre Le Roy de Boiseaumarié, (1890-1967), fondateur des appellations d'origine contrôlées, vigneron à Châteauneuf-du-Pape.
this one:
– Alexandre Grothendieck (né en 1928), mathématicien français ayant reçu la Médaille Fields.
Thanks!
Similar Posts: