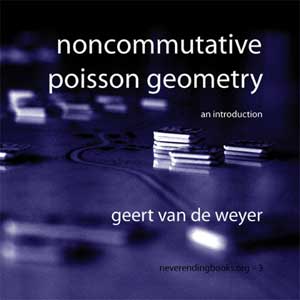 The third volume in the NeverEndingBooks-series will be written by Geert Van de Weyer and will
be about (double) Poisson structures in the noncommutative world. Volume
4&5 are becoming clearer every day and if you think you have a
project fitting in this series, you can always email to
[info@neverenedingbooks.org][3].
As for the NeverEndingBooks-URL, I will
probably close this blog by the end of the month (at its first
birthday). The main reason is that I found out that it takes several
people to maintain a mathematical blog for some time. So, if you want to
co-author a group-blog on noncommutative algebra and/or noncommutative
geometry, please [email me][5] (or even better, leave a comment here so
that other people may be willing to join in too) and if there is enough
critical mass to go ahead with the plan I will be happy to set up a
group-blog at noncommutative.org.
At
this URL I'll probably put a frontpage for the book-series we started
and which you can buy at all times via lulu.com/neverendingbooks. It will contain errata- and suggestions-pages for each volume and
details about forthcoming books, links etc… Btw. it would probably
be a good commercial move to delete TheLibrary links sooner, now that
even String Theorists are driven to this site via
Lazariou's paper On
the non-commutative geometry of topological D-branes
As my
main objective next year will be to write courses (from first year down
to post-doc level) I will set up (again) a Moodle site (mainly in English,
although UA-students will be free to add to it in Dutch). News about it
will be posted eventually at my regular, but forgotten
homepage and perhaps here.
Once again, if you are interested
to contribute at unregular intervals to a noncommutative group-blog,
please leave a comment!
[3]: mailto: info@neverendingbooks.org
[5]: mailto: lieven.lebruyn@ua.ac.be