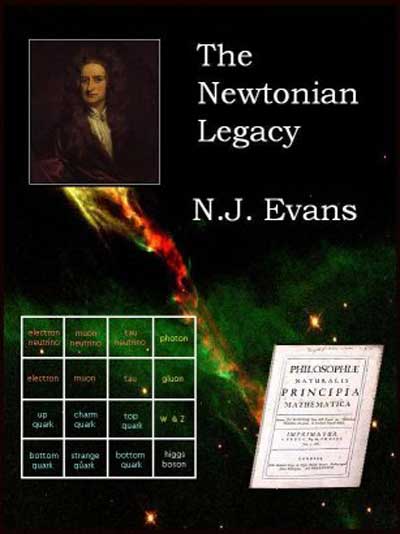 The Newtonian
Legacy is a free online book by Nick Evans. If you want a (somewhat
over-positively) review about it, head here. For me, it just didn't work but then I'm
an avid consumer of thrillers and like to be surprised. I read though to
page 80 (of 138) which is pretty good as I usually lay down an
unreadable book much sooner (most are lend from the public library, so
I'd rather start a new one as soon as it becomes tiresome). But then I
wanted to 'learn about the frontier of particle physics within a fast
paced crime adventure'. One exchange is pretty telling though (p.
40-41)
"Rule is don"t get involved in popularising
science." "That"s a bit harsh. We have to tell people what we"re doing
if we want them to fund us," said Carl. "Yeah, but it"s all lies. The
theories are all mathematics, yet we say all words. That"s why we get
these nut cases writing to us sometimes with "new theoriesiÃÇ. They"ve
just read a popular science book and mistaken it for the core of
science. They change some words and think they have a new theory. They
don"t understand that you have to get the numbers right for every
experiment you can think of. It"s just misleading." "Well, OK,"conceded
Carl, "but you can make the point that you"re just reporting a
simplification and that if people want the real thing, they"d need
maths."Everyone sought inspiration in their pints again.
So, that's why it is impossible to write about mathematics for a
general public! Anyway, a bit frustrated I went to my favorite bookshops
and read a blurb which sounded all too familiar.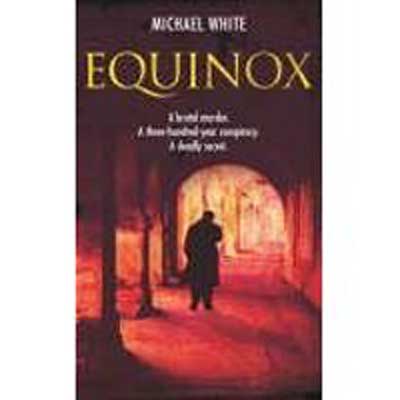 Oxford, 2006: a young woman is found brutally
murdered, her throat cut. Her heart has been removed and in its place
lies an apparently ancient gold coin. Twenty-four hours later, another
woman is found. The MO is identical, except that this time her brain has
been removed, and a silver coin lies glittering in the bowl of her
skull. The police are baffled but when police photographer, Philip
Bainbridge and his estranged lover, Laura Niven become involved, they
discover that these horrific, ritualistic murders are not confined to
the here and now. And a shocking story begins to emerge which
intertwines Sir Isaac Newton, one of seventeenth-century England's most
powerful figures, with a deadly conspiracy which echoes down the years
to the present day, as lethal now as it was then. Before long those
closest to Laura are in danger, and she finds herself the one person who
can rewrite history; the only person who can stop the killer from
striking again…
The first half of the
book is rather promising (and at least its well written).
Mathematics even makes a short appearance as daugther Jo is studying
maths. Not that she contributes much of her talent to the story (apart
from contributing to solving one riddle) and in the end it seems to be
much more important to date the right boyfriend than to do math! The
book really becomes laughable when the couple is trapped in a maze 100
feat below the Bodleian library. Pure Indiana Jones-remake : expecting
pitfalls? here they come! what else do we remember of the movie?
arrow-traps! sure enough they appear. Oh, this must be that movie, so
whats next? well, sure enough (p. 343 "A massive block of stone crashed
down from the lintel of the archway, landing squarely with a thump on
the dusty floor. They were sealed in." Presumably the authors
inspiration dried out!
Mind you, I do not want to be negative on
principle. Sometimes (too rare) I do read an enjoyable, interesting,
intelligent thriller. The last one Ive read was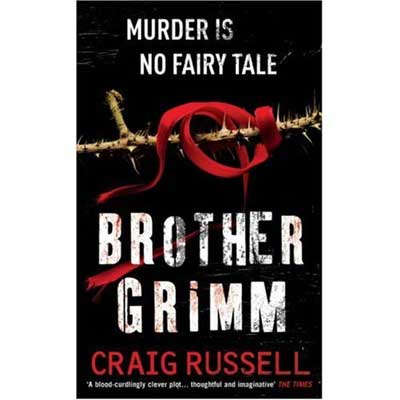 Brother Grimm by Craig Russell is a must read if you are into
serial-killer stories. Heres the synopsis
A girl's
body lies, posed, on the pale sand of a Hamburg beach, a message
concealed in her hand. 'I have been underground, and now it is
time for me to return home…' Jan Fabel, of the Hamburg murder
squad, struggles to interpret the twisted imagery of a dark and brutal
mind. Four days later, a man and a woman are found deep in woodland,
their throats slashed deep and wide, the names 'Hansel' and
'Gretel', in the same, tiny, obsessively neat writing, rolled
tight and pressed into their hands. As it becomes clear that each new
crime is a grisly reference to folk stories collected almost two hundred
years ago by the Brothers Grimm, the hunt is on for a serial killer who
is exploring our darkest, most fundamental fears – a predator who kills
and then disappears into the shadows. He is a monster we all learned to
fear in childhood.
An original point of view, an
unorthodox setting (Hamburg!), interesting and real life personages what
more do you want? Oh, you want to learn something from reading a
bestseller? To me, this book was an eye-opener. Ever wondered why all
these serial-killer-books become bestsellers? Here's the answer (p.
227)
<
p>"Weiss toke a novel from the bookshell before him!! 'Today
we continuously reinvent these tales. The same stories, new characters.
This is a bestseller – a story about the hunt for a serial killer who
ritually dismembers his victims. These are our fairy tales
today. These are our fables, our Maerchen. Instead of elves and kobolts
and hungry wolves lurking in the dark corners of the woods, we have
cannibals and dissectors and abductors lurking in the dark corners of
our cities. It is in our nature to guise our evil as something
extraordinary or something different: books and films about aliens,
sharks, vampires, ghosts, witches. The fact of the matter is that there
is one beast that is more dangerous, more predatory, tan any other in
the history of nature. Us."