It is always great to hear about new and clever ways to use blogs and the internet to promote (and hopefully do) science better. So, I'm a keen consumer of the Flash-presentations of the talks at the Science in the 21st century conference. Bee of Backreaction is one of the organizers and has a post on it as does Woit of Not Even Wrong.
Chad Orzel of Uncertain Principles gave an entertaining talk titled Talking to My Dog about Science: Weblogs and Public Outreach. Not that much about the dog bit except that two of his blog-posts explaining physics to his dog landed him a book contract (book scheduled to appear early 2009).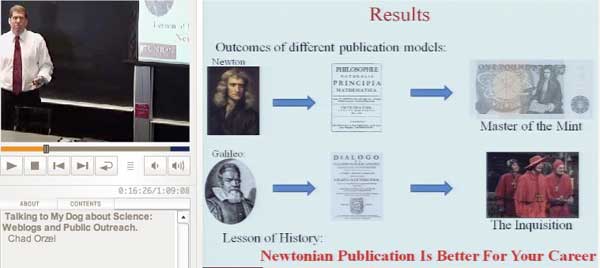 He compared two ways of communicating scientific discoveries : the Newtonian way (aka publishing in peer reviewed journals) aiming deliberately to make your texts only readable to the experts, versus the Galileian way (aka blogging or science-journalism) trying to find a method to maximize your readership and concluded (based on history) that the Newton-manner is far better for your career…
Jacques Distler of Musings continued his crusade to convince us to use mathML for TeX-rendering in Blogs, Wikis, MathML: Scientific Communication. Of course he is right, but as long as the rendering depends on the client to install extra fonts I'm not going to spend another two weeks sanitizing this blog to make it XHTML-compliant. We'll just have to wait for html5 and compatible browsers…
A talk I found extremely interesting was The Future is a Foreign Country by Timo Hannay of the Nature Publishing Group on the new challenges facing publishers in times of internet.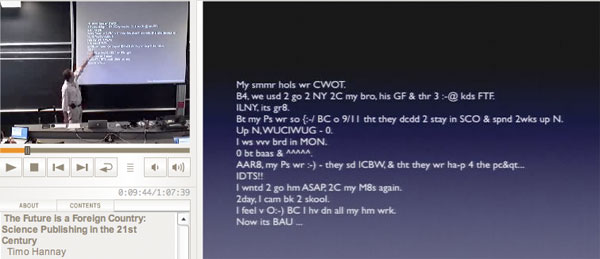 Above a text-message filed in as homework ('describe your holiday'). When Timo decrypted it, I had to think about my old idea of writing a course using only text-messages…
Truly shocked was I when I saw the diagram below in Paul Ginsparg's talk Next-Generation Implications of Open Access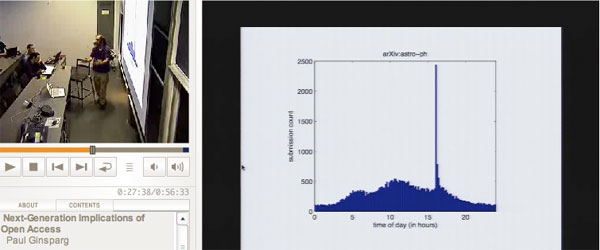 It depicts the number of submissions to the arXiv by day-time of submission over 24hours. I would have expected a somewhat smooth pattern but was totally blown away by the huge peak around 16hrs. I'll let you discover the mystery for yourself but it seems to be related to the dead-line for submission, the corresponding order the papers are mentioned in the emails send out, and its effect on the number of references these papers get within the first year…
Somewhat unlucky was Victor Henning in his talk Mendeley: A Last.fm for Research? when he wanted to demonstrate the mendeley web-interface but lost his internet connection…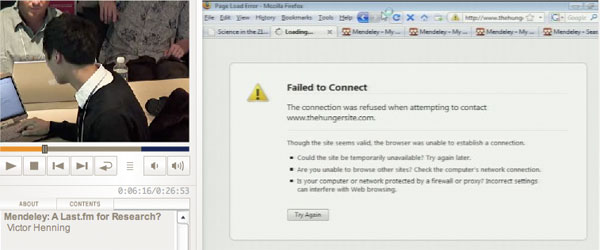 Still, it seems like a good initiative so I've registered with the mendeley site, downloaded the software and hope to explore it over the coming days. I really hope this will turn out to be the one web2-idea catching on among the mathematics-community…