It looks like I'm off the hook and can relax (after a few months of rewriting/correcting/learning LaTeX-quirks). To all of you NeverEndingBooks readers : the bookproject has ended and will appear sometime this fall. It will be around 600 pages thick and cost just under 100$. This is about 4 times the amount NeverEndingBook-ers paid over at Lulu.com. To all (?!) those who did : treasure the two volumes, they will become (extremely rare) collectors' items, one fine day. Here is the final cover-design :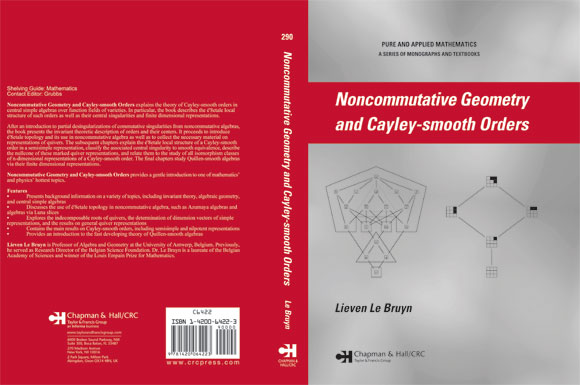 Compare it to the covers produced two years ago by the NeverEndingBooks-design department (thanks again Jan and the rest of the crew).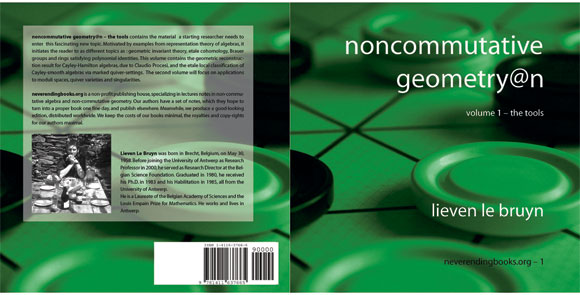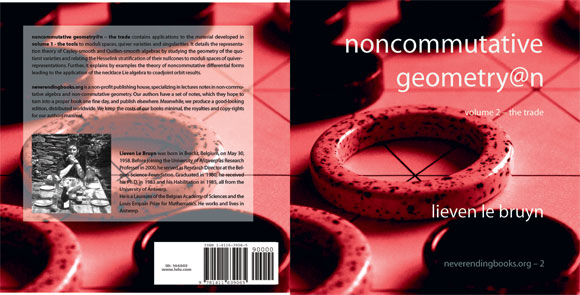 The final fight was over the promotional material. The copywriters did include the captivating sentence "A Novel Approach to Difficult Cases in Mathematics and Physics"… Here's my reply
I realize Im a difficult (some say hopeless) case, but there is little point advertising this. Here a few alternatives that may require spicing-up

"A gentle introduction to one of mathematics' (and even physics') hottest topics"
"A novel approach to noncommutative geometry"
"Get rid of singularities by going noncommutative!"
"The first readable text on an over-hyped topic…"
etc. etc.

I can do better if I have to, so please tell me and I'll open up a bottle of wine.
Whatever you do, please remove the difficult cases-sentence from all material.

atb+apologies :: lieven.
UPDATE (august 1st) : if you want to order the book for your university-library, have a look at the promo flyer. All my suggestions (apart from the last one) are included…
One final comment about all of this. The project started as a bookproject with the AMS in 1999 and was abandoned (for a variety of reasons, all of them only relevant to myself) sometime early 2002.
Here's the one thing that will hurt for some time to come. I wanted to dedicate the book to "the women in my life : my mother, Ann, Gitte&Bente". Unfortunately, my mother will never see the book. The current dedication is :
This book is dedicated to the women in my life
Simonne Stevens (1926-2004), Ann, Gitte&Bente
10 Comments