Bourbaki held His Spring-Congresses between 1952 and 1954 in Celles-sur-Plaine in the Vosges department.
La Tribu 27, 'Congres croupion des Vosges' (March 8th-16th, 1952)
La Tribu 30, 'Congres nilpotent' (March 1st-8th, 1953)
La Tribu 33, 'Congres de la tangente' (March 28th-April 3rd, 1954)
As we can consult the Bourbaki Diktat of the first two meetings, there is no mystery as to their place of venue. From Diktat 27:
"The Congress of March 1952 will be held as planned in Celles-sur-Plaine (Vosges) at the Hotel de la Gare, from Sunday March 9 at 2 p.m. to Sunday March 16 in the evening. A train leaves Nancy on Sunday morning at 8:17 a.m., direction Raon-l'Etappe, where we arrive at 9:53 a.m.; from there a bus leaves for Celles-sur-Plaine (11 km away) at 10 am. Please bring big shoes for the walks (there will probably be a lot of snow on the heights)."
Even though few French villages have a train station, most have a 'Place de la Gare', indicating the spot where the busses arrive and leave. Celles-sur-Plaine is no exception, and one shouldn't look any further to find the 'Hotel de la Gare'.
This Hotel still exists today, but is now called 'Hotel des Lacs'.
At the 1952 meeting, Grothendieck is listed as a 'visitor' (he was a guinea-pig earlier and would only become a Bourbaki-member in 1955). He was invited to settle disputes over the texts on EVTs (Topological Vector Spaces). In the quote below from La Tribu 27 'barrel' refers of course to barreled space:
"But above all a drama was born from the laborious delivery of the EVTs. Eager to overcome the reluctance of the opposition, the High Commissioner attempted a blackmail tactic: he summoned Grothendieck! He hoped to frighten the Congress members to such an extent that they would be ready to swallow barrel after barrel for fear of undergoing a Grothendieckian redaction. But the logicians were watching: they told Grothendieck that, if all the empty sets are equal, some at least are more equal than others; the poor man went berserk, and returned to Nancy by the first train."
The 1953 meeting also had a surprise guest, no doubt on Weil's invitation, Frank Smithies, who we remember from the Bourbaki wedding joke.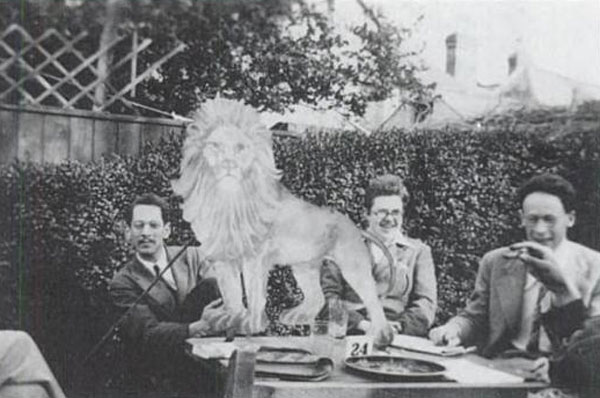 Frank Smithies seated in the middle, in between Ralph Boas (left) and Andre Weil (right) at the Red Lion, Grantchester in 1939.
At the 1954 meeting we see a trace of Bourbaki's efforts to get a position for Chevalley at the Sorbonne.
"Made sullen by the incessant rain, and exhausted by the electoral campaigns of La Sorbonne and the Consultative Committee, the faithful poured out their indecisive bile on the few drafts presented to them, and hardly took any serious decisions."