It all started with this comment on the noncommutative geometry blog by "gabriel" :
Even though my understanding of noncommutative geometry is limited, there are some aspects that I am able to follow.
I was wondering, since there are so few blogs here, why don't you guys forge an alliance with neverending books, you blog about noncommutative geometry anyways. That way you have another(n-category cafe) blogspot and gives well informed views(well depending on how well defined a conversational-style blog can be).
The technology to set up a 'conversational-style blog', where anyone can either leave twitter-like messages or more substantial posts, is available thanks to the incredible people from Automattic.
For starters, they have the sensational p2 wordpress theme : "blogging at the speed of thought"
A group blog theme for short update messages, inspired by Twitter. Featuring: Hassle-free posting from the front page. Perfect for group blogging, or as a liveblog theme. Dynamic page updates. Threaded comment display on the front page. In-line editing for posts and comments. Live tag suggestion based on previously used tags. A show/hide feature for comments, to keep things tidy. Real-time notifications when a new comment or update is posted. Super-handy keyboard shortcuts.
Next, any lively online community is open for intense debate : "supercharge your community"
Fire up the debate with commenter profiles, reputation scores, and OpenID. With IntenseDebate you'll tap into a whole new network of sites with avid bloggers and commenters. And that's just the tip of the iceberg!
And finally, as we want to talk math, both in posts and comments, they provide us with the WP-LaTeX plugin.
All these ingredients make up the n-geometry cafe ((with apologies to the original cafe but I simply couldn't resist…)) to be found at noncommutative.org (explaining the 'n').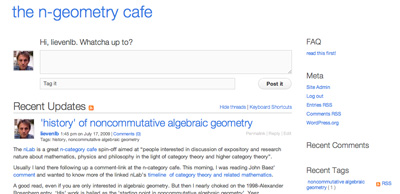 Anyone can walk into a Cafe and have his/her say, that's why you'll get automatic author-privileges if you register.
Fill in your nick and email (please take your IntenseDebate setting and consider signing up with Gravator.com to get a nice image next to your contributions), invent your own password, show that you're human by answering the reCapcha question and you'll get a verification email within minutes ((if you don't get an email within the hour, please notify me)). This will take you to your admin-page, allowing you to start blogging. For more info, check out the FAQ-pages.
I'm well aware of the obvious dangers of non-moderated sites, but also a strong believer in any Cafe's self-regulating powers…
If you are interested in noncommutative geometry, and feel like sharing, please try it out.