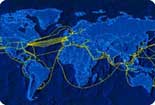 Did you ever wonder what hardware keeps the web running ?
Fibre-optic cables, cross-continent cables and the like seem to be a
dull subject but in the hands of Neal Stephenson. When he was doing research for his excellent book Cryptonomicon he travelled the continents
following the biggest backbone cable to be laid and wrote down his
journey for Wired Magazine in Mother Earth, Mother board. Here are his opening
lines : "In which the hacker tourist ventures forth across the wide and
wondrous meatspace of three continents, acquainting himself with the
customs and dialects of the exotic Manhole Villagers of Thailand, the
U-Turn Tunnelers of the Nile Delta, the Cable Nomads of Lan tao Island,
the Slack Control Wizards of Chelmsford, the Subterranean
Ex-Telegraphers of Cornwall, and other previously unknown and
unchronicled folk; also, biographical sketches of the two long-dead
Supreme Ninja Hacker Mage Lords of global telecommunications, and other
material pertaining to the business and technology of Undersea
Fiber-Optic Cables, as well as an account of the laying of the longest
wire on Earth, which should not be without interest to the readers of
Wired."
Probably this long text is a bit tiring to
read from screen so I made a pdf-file of it which should be easy to print out.
Enjoy the read!