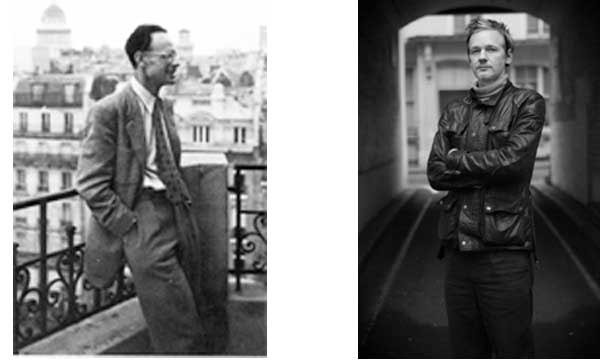 In an interview with readers of the Guardian, December 3rd 2010, Julian Assange made a somewhat surprising comparison between WikiLeaks and Bourbaki, sorry, The Bourbaki (sic) :
"I originally tried hard for the organisation to have no face, because I wanted egos to play no part in our activities. This followed the tradition of the French anonymous pure mathematians, who wrote under the collective allonym, "The Bourbaki". However this quickly led to tremendous distracting curiosity about who and random individuals claiming to represent us. In the end, someone must be responsible to the public and only a leadership that is willing to be publicly courageous can genuinely suggest that sources take risks for the greater good. In that process, I have become the lightening rod. I get undue attacks on every aspect of my life, but then I also get undue credit as some kind of balancing force."
Analogies are never perfect, but perhaps Assange should have taken it a bit further and studied the history of the pre-war Bourbakistas in order to avoid problems that led to the eventual split-up.
Clearly, if Bourbaki=WikiLeaks, then Assange plays the role of Andre Weil. Both of them charismatic leaders, convincing the group around them that for the job at hand to succeed, it is best to work as a collective so that individual contributions cannot be traced.
At first this works well. Both groups make progress and gain importance, also to the outside world. But then, internal problems surface, questioning the commitment of 'the leader' to the original project.
In the case of the Bourbakis, Claude Chevalley and Rene de Possel dropped that bombshell at the second Chancay-meeting in 1937 with a 2 page pamphlet 7 theses de Chancay.
"Criticism on the state of affairs :
in general, a certain aging of Bourbaki, which manifests itself in a tendency to neglect internal lively opposition in favor of pursuing visible external succes ((failed) completion of versions, artificial agreement among members of the group).
in particular, often the working method appears to be that of suffocating any objections in official meetings (via interruptions, not listening, etc. etc.). This tendency didn't exist at the Besse meeting, began to manifest itself at the Escorial-meeting and got even worse here at Chancay. Bourbaki-members don't pay attention to discussions and the principle of unanimous decision-making is replaced in reality by majority rule."
Sounds familiar? Perhaps stretching the analogy a bit one might say that Claude Chevalley's and Rene de Possel's role within Bourbaki is similar to that of respectively Birgitta Jónsdóttir and Daniel Domscheit-Berg within WikiLeaks.

This criticism will be neglected and at the following Bourbaki-meeting in Dieulefit (neither Chevalley nor de Possel were present) hardly any work gets done, largely due to the fact that Andre Weil is more concerned about his personal safety and escapes during the meeting for a couple of days to Switserland, fearing an imminent invasion.
After the Dieulefit-meeting, even though Bourbaki's fame is spreading, work on the manuscripts is halted because all members are reserve-officers in the French army and have to prepare for war.
Except for Andre Weil, who's touring the world with a clear "Bourbaki, c'est moi!" message, handing out Bourbaki name-cards or invitations to Betti Bourbaki's wedding… That Andre and Eveline Weil are traveling as Mr. and Mrs. Bourbaki is perhaps best illustrated by the thank-you note, left on their journey through Finland.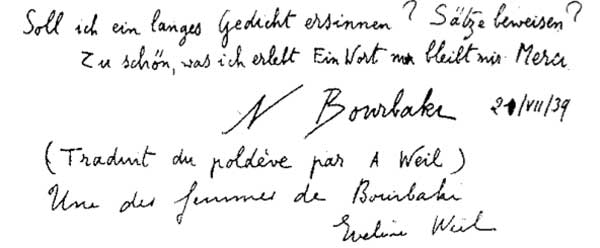 If it were not for the fact that the other members had more pressing matters to deal with, Weil's attitude would have resulted in more people dropping out of the group, or continuing the work under another name, a bit like what happens to WikiLeaks and OpenLeaks today.