Since mid May the Montpellier part of Grothendieck's gribouillis are online and for everyone available at the Archives Grothendieck.
The story is well-known.
End of June 1990, Grothendieck phoned Jean Malgoire warning him to come asap if he wanted to safeguard the better part of G's mathematical archive, for he was making a bonfire…
A second handover apparently took place on July 28th 1995.
Malgoire kept these notes (in huge Pampers boxes!) until 2010 when he got cold feet as a result of Grothendieck's letter. He then donated the boxes to the University of Montpellier in 2012.
After Grothendieck's death in 2014, Montpellier started a project to scan each and every page and put them online, with the backing of Grothendieck's children (and generous financial support from the local authorities).
So here we are now, and… nobody seems to care.
I'm aware only of this post on MathOverflow by someone who wants to LaTex some of the material on motives.
Perhaps this is due to the less than optimal presentation of the material, or more likely, Grothendieck's terrible handwriting. Perhaps the University of Montpellier should partner up with the (older generation of) French pharmacists.
But then, there's this artistic gem in the archive: cote 154 systemes the pseudo-droites written in 1983-84.
It is written on ancient matrix-plotter page. Here's a typical example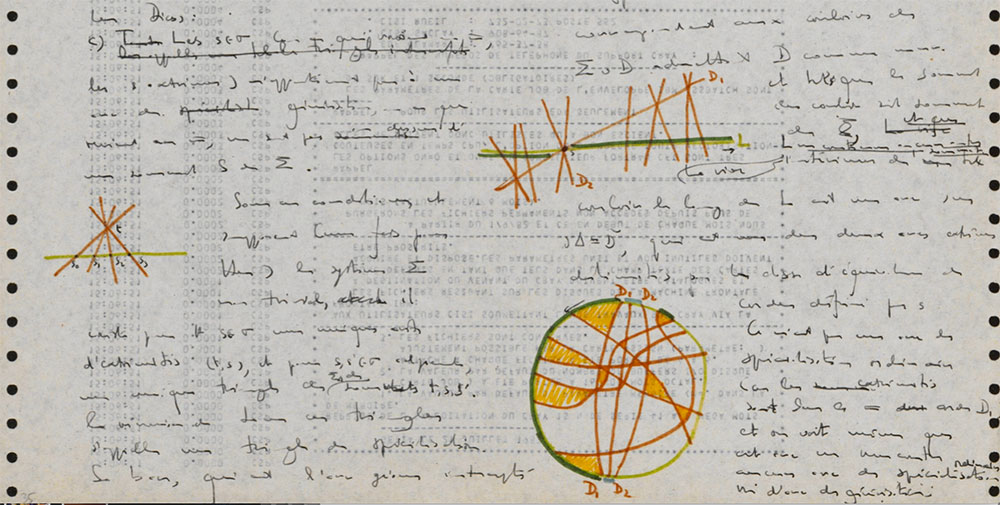 Which mathematical department wouldn't want to acquire a framed version of one of these original pages?
That's the point I wanted to make early may in this G+-post, hoping to raise money to safeguard the Lasserre part of Grothendieck's gribouillis.
When in need for a header picture, I'll use a page of Grothendieck's gallery No 154 from now on.
Here's evidence that Grothendieck was working on GUTS! (literally).