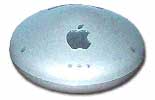 I found on the net a way around the problem that a first
generation graphite airport basestation is not compatible with a
third generation extreme ABS. The article is called Extending AirPort's range with multiple base
stations and addresses precisely my problem (a problem that others
still think is not there judging from the replies to the article). I
checked it out and it works. So, here is the setup that I will use this
summer to get some iBooks in the garden connecting happily to the
internet at the expense of an in-house extra computer running… The
extreme ABS (woonkamer) is configured to run our usual in-house
network. The graphite ABS (terras) will be connected via a
crossed-ethernet cable to an iMac in the dinner room near the garden
window (this iMac is still well within the range of the
woonkamer-network). Here are the System-preferences for the iMac :

Network : Airport : TCP/IP configure using
DHCP ; all others empty
Network : Build-in Ethernet : TCP/IP
configure using DHCP ; all others empty
Sharing : Internet :
Click 'Start' for sharing your Airport connection

Here are the configuration parameters of the terras-ABS
:
Internet tab
Connect using:
Ethernet
Configure: Using DHCP
IP address: leave
empty
Subnet mask: leave empty
Router address: leave
empty
DNS servers: leave empty
Domain name: leave
empty
DHCP client ID: leave empty
Network tab
Distribute IP address: CHECKED
Share a single IP address (using DHCP and NAT): CHECKED
DHCP lease: 60 min (default)
Enable AirPort to Ethernet
bridging: CHECKED
all others: leave empty / unchecked
Now any iBook in the garden connecting via Airport to
the terras-network will be able to get on the net.