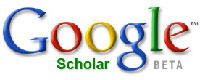 Yet another great Google service : Google Scholar. Just type in a name
(for example mine) and you will get a
list of all his/her publications which are listed on the net. A
printable version of the paper if possible, a reference if not. In the
first case it even lists all versions available on the net. But even in
the latter case it has an extremely useful link next to it "Cited
by somany" which gives all references to the paper Google can
find. Clearly, it also finds all papers posted on the arXiv but the
great additional value is that you no longer have to search departmental
or personal webpages yourself. If you want to find out more about this
service, read the about page.