In recent years, Ive used this blog to post the programs of our summer-schools on noncommutative algebra and noncommutative geometry. As Ive promised to maintain a webpage for all announcements of the Antwerp Ring Theory Seminar (ARTS) and feel more comfortable with a blog-environment (compared to the straight MYSQL-coding of the present Arts website ), Ive set up a new blog for this purpose : theARTS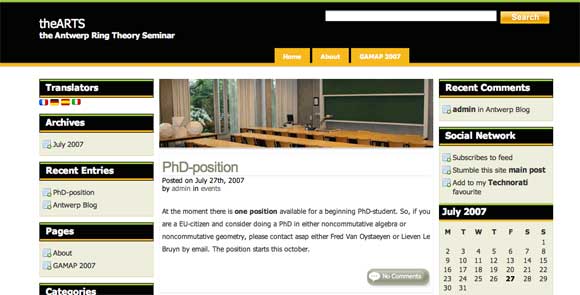 Clearly it would be a shame not to use the full power of this blog-environment. Hence, if you are somewhat connected to the ARTS (a present or former member, a visitor, a student or, as far as Im concerned, a partner of one of those) and like to blog at theARTS, just tell me and you will have authoring-privileges.
If you are interested in the program of the 2007 summer-school "Geometric and Algebraic Methods with Applications in Physics" head over to the official website also available from theARTS header-bar. Ive been told that there is still some money left if you want to attend this summer-school as a Socrates (meaning EU) student. Leave a comment at theARTS and someone will contact you.