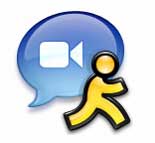 Not
all improvements to our home-network need to be high tech. Here is a
very simple measure which reduces the amount of in-house shouting
drastically. Often all of us are online, either to work, surf the net,
MSN-chat or listening to iTunes and clearly we can easily see which
other computers are on at the time. Just click on the Network
icon on the top left of the Finder-window. As our computer-names
are quite descriptive (iMacLieven,iMacBente,eMacAnn,iBookGitte)
it will give a good indication of who is online but as we can all login
to all these computers one can never be too certain. An elegant way to
find out who is on whose computer is to use the Rendezvous window
in iChat. This lists all people on the network which have
iChat running on their computers and then iChat can be used to send
simple messages immediately to a given person (such as : turn that music
down or telephone for you etc.). There is just one problem : as the kids
use MSN to chat they never turn on iChat and as we are of a non-chatting
generation neither do we. Fortunately, it is easy to force iChat to be
running at login.
On each computer go to
SystemPrefrences-Accounts and for each user go to the Startup
Items pane. Click on the + button and browse to the
Applications/iChat program and click Add. Be sure to check
the Hide button and you are done. Next time that person logs in,
iChat will start automatically in the background (the only slightly
annoying thing is a small sound at the end of login) and the user will
appear in any iChat-Rendezvous window.