My one and only resolution for 2018: ban vampires from my life!
Here's the story.
In the 1920's, Montparnasse was at the heart of the intellectual and artistic life in Paris because studios and cafés were inexpensive.
Artists including Picasso, Matisse, Zadkine, Modigliani, Dali, Chagall, Miro, and the Romanian sculptor Constantin Brancusi all lived there.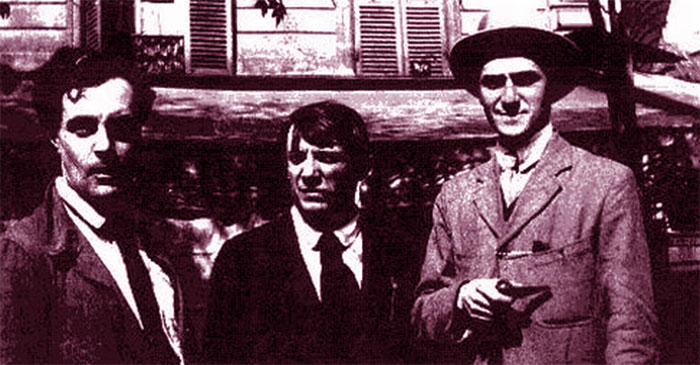 You'll find many photographs of Picasso in the company of others (here center, with Modigliani and Salmon), but … not with Brancusi.
From A Life of Picasso: The Triumphant Years, 1917-1932 (Vol 3) by John Richardson:
"Brancusi disapproved of one of of Picasso's fundamental characteristics—one that was all too familiar to the latter's fellow artists and friends—his habit of making off not so much with their ideas as with their energy. "Picasso is a cannibal," Brancusi said. He had a point. After a pleasurable day in Picasso's company, those present were apt to end up suffering from collective nervous exhaustion. Picasso had made off with their energy and would go off to his studio and spend all night living off it. Brancusi hailed from vampire country and knew about such things, and he was not going to have his energy or the fruits of his energy appropriated by Picasso."
I learned this story via Austin Kleon who made this video about it:
Show Your Work! Episode 1: Vampires from Austin Kleon on Vimeo.
Similar Posts: