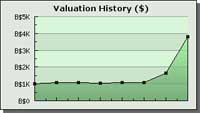 I've added a few side-bar links just for fun. One is who links here which is described to
be
Who Links To Me – for the ultimate
narcissist within you
and if you click it you get
_some_ of the pages linking to this weblog. Not that it is so
important but it is pleasant to see that some real people (as opposed to
spiders) look at this page and at times this is needed just to carry on
blogging.
Another link I like is blogshares. On its homepage its purpose is described
as
BlogShares is a fantasy stock market for
weblogs. Players get to invest a fictional $500, and blogs are valued by
inbound links.
Much to my surprise my blog is
valued to be worth $3,793.32. I'll be happy to cash this in and
start a brand new blog anytime! Unfortunately, so far nobody seems to
have bought a share of @matrix, so please do, I think it's a good
investment if you look at the current growth rate. A more sobering
figure is that my present market share is a mere 0.000195188 %…
(added febr 2007) : clearly i've given up on
such things (though I'm presently worth 5 times more)
Similar Posts: