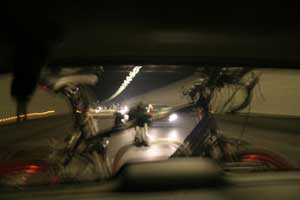 If you recognize where this picture was
taken, you will know that I\'m back from France. If you look closer you
will see two bikes, my own Bulls mountainbike
in front and Stijn\'s
lightweight bike behind.
If you see the relative position of the
saddles, you will know that Stijn is at least 20 cm taller. Let me add
that he is also at least 20 yrs. younger and 20 kgs. stronger and it
will be clear that I had a hard (but fun) time trying to follow him
uphill. Btw. this picture (and the next dozen or so) was taken by Jan and I\'ll try to add the next
days a couple of shots he likes more.
Since then I\'ve been
writing up a paper which I hope will be ready to put online by
september. It\'s all about using non-commutative geometry to construct
representations of arithmetic groups, a bit like the Granada Notes but with a dash of
Double Poisson
Algebras to it.
A positive outcome of this short break is
a renewed interest in the NeverEndingBooks project, but more on this
later. For now, let me just add that Raf
decided to feed my noncommutative geometry@n (version 2)
to a printing on demand publisher. So, if you want a perfect bound
paperback version of it (for 12 Euro approx.) you\'d better email him at once (at the
moment he will order just 5 copies).
Similar Posts: