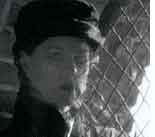 As it is probably better to run years behind than to stand
eternally still, I'll try out how much of a _blogger_ I am in 2004. If
you want to read more about blogging, Rebecca's
pocket is a good place to
start. She has written an essay on the early days of the
weblog, an
article on weblog ethics and a couple of (pretty obvious)
tips for a better
weblog.
But let us not talk about 'better' or 'ethical' at this
moment, I'm just starting out. Give me a couple of weeks/months to
develop my own style and topics and I'll change the layout accordingly.
For now, I've taken the free blog-tool
pMachine which uses only PHP and MySQL on
the server-side so I should be able to get the layout suited to my own
mood shortly. A major advantage of a weblog over a homepage is that you
can feed it to programs called _news aggregators_ by subscribing. The
program can then be tuned so that it ventures out on the net at regular
intervals checking whether any of the blogs it is subscribed to has new
material and reports back with the running title and opening lines. If
more people would turn their homepages into weblogs, the frustrating job
of checking (usually in vain) whether their pages has been updated could
be left to the aggregator. For now, I'm using Rancheros's
NetNewsWire as my Mac OSX news
aggregator. Okay, now it is time to make some final preparations for
endyear, but tomorrow I'll wake up to become a _blogger_…