Twenty
five years ago I was amazed that writing merely "Le
Travers,Sablieres,France" on an envelop did the job. Today I'm even more
surprised that typing just "Le Travers,Sablieres" into Google Maps or Google earth brings you there in seconds with an
offset of about 100 meters!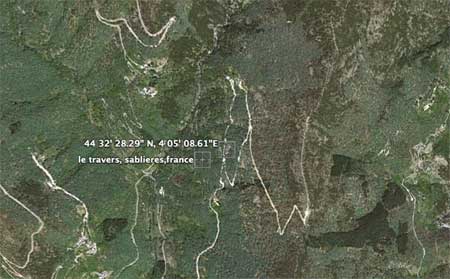 Actually, the Google mark may be more accurate as it depicts the spot on
an old mule-path entering 'le hameau de travers' which consists of two
main buildings : 'le by' just below us and what we call 'the travers'
but locals prefer to call 'le jarlier' or 'garlelier' or whathever (no
consistent spelling for the house-name yet). If you are French and know
the correct spelling, please leave a comment (it may have to do
something with making baskets and/or pottery).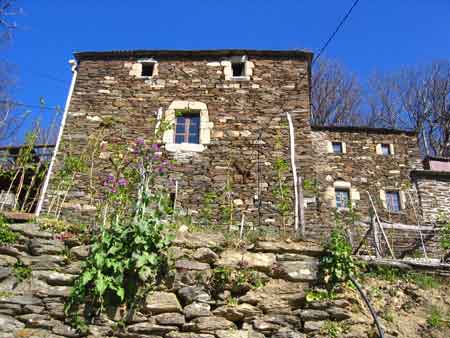 I've always
thought the building dated from the late 18th century, but now they tell
me part of it may actually be a lot older. How they decide this is
pretty funny : around the buildings is a regular grid of old chestnut
trees and as most of them are around 400 years old, so must be the
core-building, which was extended over time to accomodate the growing
number of people and animals, until some 100 yrs ago when the place was
deserted and became ruins…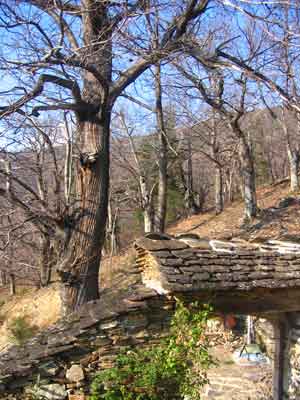 The first
few days biking conditions were excellent. If you ever come to visit or
will be in the neighborhood and are in for an easy (resp. demanding,
resp. tough) one and a half hour ride here, are some suggestions.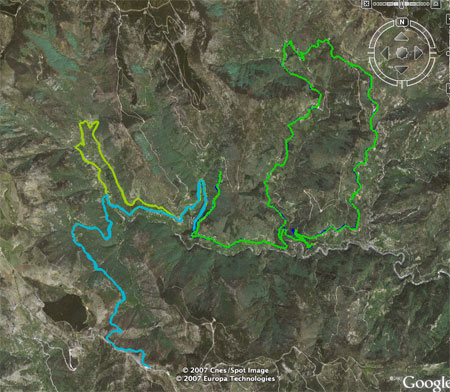 Start/end
point is always the end of the loose green path in the middle (le
travers). An easy but quite nice route to get a feel for the
surroundings is the yellowish loop (gooing back over blue/green) from
Sablieres to Orcieres and gooing back along camping La Drobie. Slighly
more demanding is the blue climb to over 900 meters to Peyre (and back).
By far the nicest (but also hardest) small tour is the green one
(Dompnac-Pourcharesse-St.Melany). If you want to study
these routes in more detail using GoogleEarth here is the kmz-file. Btw.
this file was obtained from my GPS gpx-file using
GPS-visualizer. Two and a half years
ago I managed to connect the
place via a slow dial-up line and conjectured that broadband-internet
would never come this far. I may have to reconsider that now as the
village got an offer from Numeo.fr to set-up a
wireless (??!!) broadband-network with a pretty low subscription… But,
as no cell-phone provider has yet managed to cover this area, I'm a bit
doubtful about Numeo's bizness-plan. Still, it would be great. Now, all
I have to do is to convince the university-administration that my online
teaching is a lot better than my in-class-act and Ill be taking up
residence here pretty soon…
Similar Posts: